Description
For Whom The Bells Tolls ( Ernest Hemingway ) Posters & Canvas Prints
Printed on high-quality, professional canvas prints
Gallery wrapped over thick wooden stretcher bars
Canvas shipped ready to hang
Posters are shipped rolled in a tube
100% Made in the USA
Delivery time 3 to 5 business days
Shipping to USA only via UPS with Tracking Number
Did you know that art can kick start conversations? Let your walls speak up with stunning vintage book cover wall art!
ADDITIONAL INFO: All images are transferred on high-quality canvas, giving it a " painting – art gallery " feel. Unique finishing process of stretching the canvas around a wooden frame creates a striking three-dimensional piece of art, and no additional framing is necessary. Your canvas will arrive ready-to-hang, as hooks will already be fastened.
Canvas prints are perfect for dressing up any walls as it offers maximum visual impact and instantly create a theme for a room in the house, a classroom, a conference room, a library or a book store. Long gone author's book and illustrations simply looks great on museum quality gallery wrap canvases. Treat yourself or give as a gift to book lovers and book collectors!
Decorators love the easy access to our collection. We have had the privilege to supply every Barnes & Noble bookstore across the United States. We have also installed our prints at numerous libraries, office buildings, college dorms, medical offices, and even the occasional cheese steak shop.
Looking forward to have you join the ranks of our loyal customers!
.
WOULD YOU NEED A COPY OF THE BOOK ALSO? GET IT TODAY ON ABEBOOKS!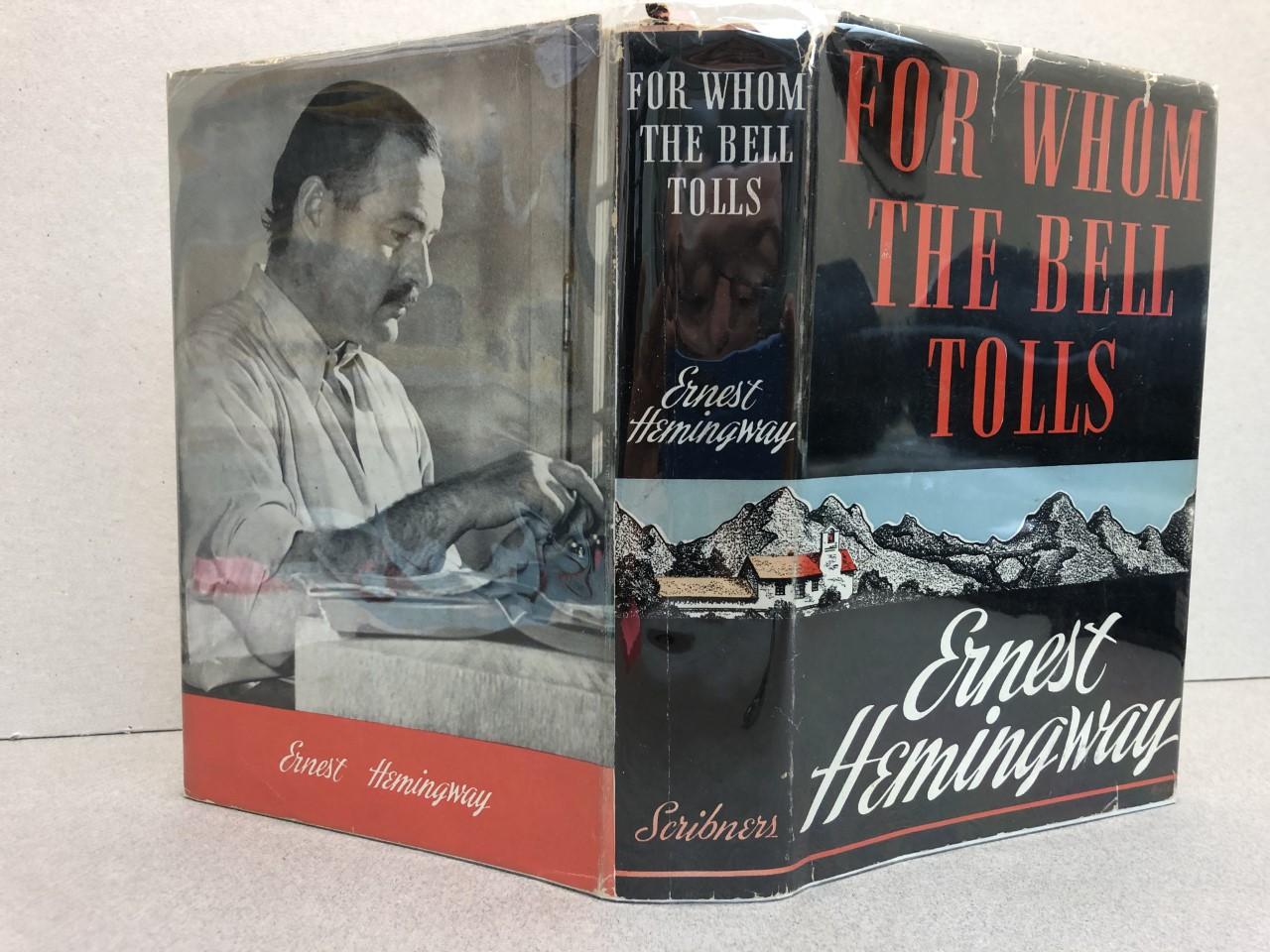 For Whom the Bell Tolls tells the story of Robert Jordan, a young American in the International Brigades attached to a republican guerrilla unit during the Spanish Civil War. As a dynamiter, he is assigned to blow up a bridge during an attack on the city of Segovia.
The book's title is taken from the metaphysical poet John Donne's series of meditations and prayers on health, pain, and sickness (written while Donne was convalescing from a nearly fatal illness) published in 1624 as Devotions upon Emergent Occasions, specifically Meditation XVII. Hemingway quotes part of the meditation (using Donne's original spelling) in the book's epigraph. Donne refers to the practice of funeral tolling, universal in his time.
The novel is regarded as one of Hemingway's best works, along with The Sun Also Rises, A Farewell to Arms, and The Old Man and the Sea.   
.
#bookcoverprints #forwhomthebelltolls #ernesthemingway #ernesthemingwayprints #forwhomthebelltollscanvasprints #forwhomthebelltollsartprints #forwhomthebelltollsposterprints
#literaryprints #literarygifts #literaryartprints #spanishcivilwarartprints #spanishcivilwarprints #wallart #wallartprints #wallartcanvasprint #wallartcanvasprints #wallartdecorcanvas